The 2017 Solar Eclipse in Jackson Hole is coming soon!
Jackson Hole is a mesmerizing valley located in western Wyoming. It is famous for many reasons, but mainly because of its natural beauty. At the South end of the valley is Jackson, the biggest little town in the county, and a small town that serves as an attraction for millions of tourists every year who witness nature in its purest form.
As you prepare your list of all the fun things to do in Jackson Hole, you can't miss stargazing in Wyoming. If you are planning a visit to Jackson Hole this year then consider yourself lucky! On Monday, August 21st, 2017 a solar eclipse will begin and move toward Jackson Hole.
The solar eclipse will take place on Monday, August 21, 2017, just before noon in Jackson Hole. A solar eclipse happens when the Moon passes between Earth and the Sun, obscuring the image of the Sun for folks on Earth. A total solar eclipse occurs when the Moon's apparent diameter is larger than the Sun's, blocking all direct sunlight, turning day into darkness, and that is our treat in Jackson Hole! Totality occurs in a narrow path across Earth's surface, with the partial solar eclipse visible over a surrounding region thousands of kilometers wide.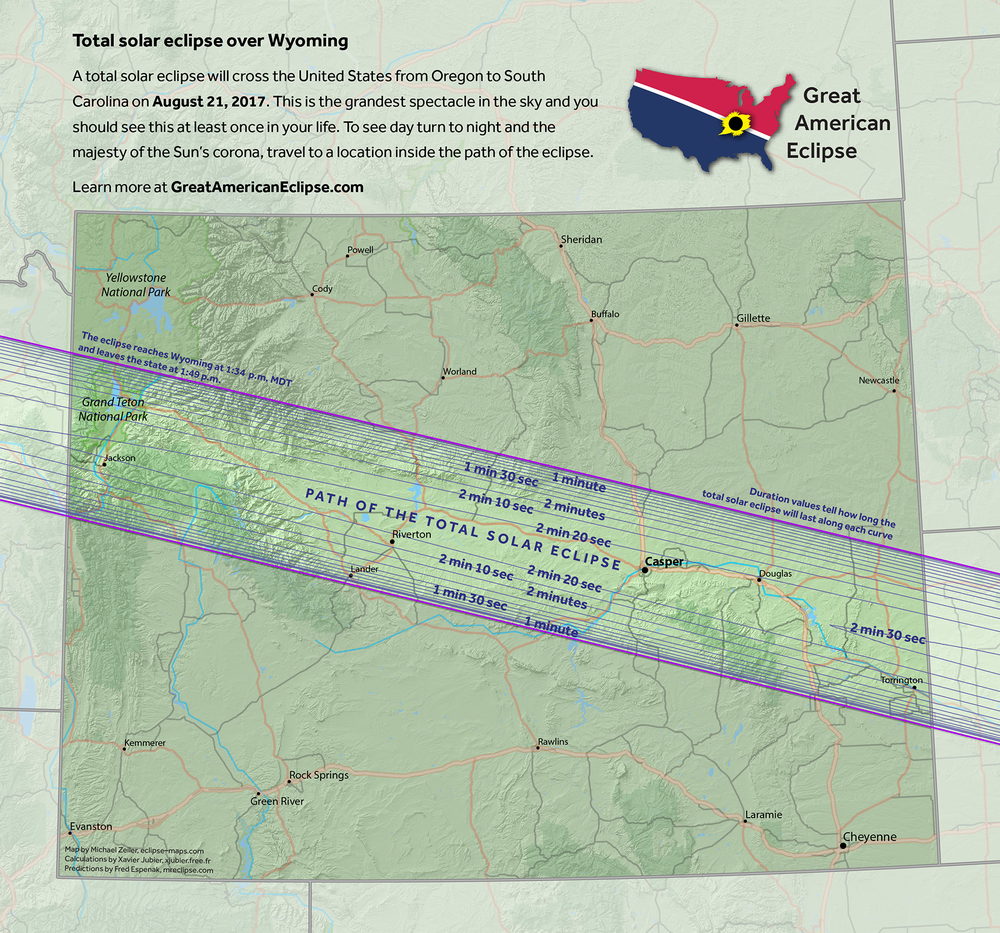 The Jackson Hole community is making this solar eclipse even more memorable by setting up events for all the stargazing fans that are paying a visit. Chairlift rides are available for a hundred-foot closer view, folks are selling special retina-saving lenses, and local business's are promoting special packages and souvenirs with eclipse themes.  There is so much to do here in Jackson Hole that can enhance your experience, like a drive to Grand Teton National Park, Gros Ventre River Road, Antelope Flats Road, or other top scenic drives, local excursion fun packages, and much more!
Take in the best views and climb any peak like Sheep Mountain, Snow King or even the Grand Teton for a better eclipse viewing!  Make sure to plan ahead as there will be closures and most time slots have already been filled.
Now you know where to see the 2017 solar eclipse, but do you know how to see it? Staring at a partial solar eclipse with the naked eye can damage your eyesight and vision. Never look directly at the Sun without proper eye protection; you have to look at it through a filter or from a secondary source if you do not want the UV radiation to harm your eye's retina. You can watch it using one of the following things:
Projectors
Pinholes
Binoculars
Eclipse Glass
Welder's glasses rated 14 or higher
Solar filters
Keep in mind that you SHOULD NOT wear only sunglasses to see the solar eclipse.
It is not an everyday opportunity to watch a complete solar eclipse!  It is impossible to see a total eclipse unless you are at a point that is directly in Eclipse's path. Luckily, Jackson Hole comes directly in it's path this year, adding breathtaking views on your list of reasons to view the eclipse from Jackson Hole.  If you will be visiting Jackson Hole this August for the eclipse, be one of the first to book lodging and activities, because soon you will be reading signs of "Sold Out" and "Unavailable for your dates" as the town fills up at lightening speed.
Jackson Hole is the perfect place to see Solar Eclipse 2017 as we are fortunate that it is one of the few places in the "path of totality!"  Here at the Jackson Hole Shooting Experience, "we have arranged" for over 2 minutes of totality over the Jackson, Wyoming shooting range we will be using that day!
This eclipse is the 22nd of the 77 of Saros series 145, the same one that also produced the solar eclipse of August 11, 1999. Members of this series are increasing in duration, which means this one is even better!
The longest eclipse in this series will occur on June 25, 2522 and last for 7 minutes and 12 seconds.  For those of you that enjoy watching the eclipse of 2017 and your visit to our Jackson Hole activity, we invite you back for the 2522 eclipse as well! Check out the Jackson Hole Chamber of Commerce's eclipse ready website for events, travel news, and more information on this amazing eclipse!