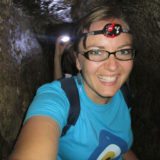 Ashleigh Read
Guest Care Guru - Book Editor
Ashleigh Read was fortunate enough to grow up here in Jackson Hole.  She has been shooting with her family longer than she can remember, and she began hiking through Wyoming's mountains in search of big game with them as soon as she was big enough to carry her own juice-box.
Since the age of twelve, she has been shooting her own elk, deer, antelope, moose, pheasants, and even a bear to help provide food for her family. One of her favorite things to do other than hunting is hopping on a horse and riding as far as she can go through the mountains behind her house.
Ashleigh recently graduated from Brigham Young University in Provo, UT with a degree in linguistics.  Among her interests are travel, studying Hebrew, and all things Star Wars.  She got married in May 2016 and is now our awesome long-distance Booking Guru, working from Idaho while her husband David works on his medical degree!
When Ashleigh isn't being a Booking Guru, she is typing away at her computer as a freelance editor specializing in copyediting and proofreading. She recently edited #shootinjh owner Shepard Humphries' book, Harsh Advice for the Unemployed Guy.
"I thought working with a book editor would be a huge hassle, but Ashleigh made it easy, her attention to detail and and ability to clarify poorly worded points was excellent. She not only fixed grammar issues, commas and such, she also really understood what I wanted to communicate and had wonderful suggestions. I have since asked her to edit our new book, The Ultimate Guide to Extreme Long Range Shooting."