After a great day of shopping, capturing memories with those you love fly fishing, flying high in a hot air balloon or shooting guns with us, check out these top restaurants for great drinks, fantastic ambiance and amazing food. Strike up a conversation with a your server and find out what other great things there are to do in Jackson Hole!
---
Million Dollar Cowboy Steakhouse
The best steakhouse in Jackson Hole is the Million Dollar Cowboy Steakhouse.  Read more HERE.  For those seeking relaxed high-end dining and want some great red meat, this restaurant is perfect!
---
The Kitchen
A modern twist on comfort food, The Kitchen is a Jackson Hole gem that offers great food and great service. The visually stunning atmosphere is host to simple yet elegantly designed plates of local and fresh ingredients for a one-of-a-kind experience. The menu boasts an array of hand crafted seafood platters, luxurious appetizers, and Asian-inspired grilled steaks and ribs. Specialty hand-mixed cocktails are a great addition to any other the great meals inspired by nature and fine dining.  The restaurant is definitely upscale, however the manager tells us that he insists on the atmosphere being causal, so even if you are still dusty and windblown, your are welcome to forego traditional pre-dinner preparation.
FIGS
FIGS offers Mediterranean style foods with regionally sourced fresh ingredients. Located inside the grand Hotel Jackson, FIGS offers great food and a fantastic atmosphere. Sit by the warm fire and and relax as you sip amazing hand-crafted drinks and converse with those you love. A cozy restaurant with amazing food, can you ask for more? The Darwiche family has produced a wonderful 4-Star Hotel with Figs being an easy downtown option for non-hotel guests as well.
Bin22
Located in back of the wine and liquor shop, Bin22 is Tuscan-inspired cuisine and intimate ambiance. Started as a way to personalize the wine buying experience, this restaurant and spirits shop has become a local favorite. Bin22 features small plates and cozy tables great for relaxation and conversation, as well as delicious Roadhouse brews. Check out the small market style grocery for handmade cheeses, sauces, ice cream, and Italian deli meats.
Café Genevieve
Café Genevieve's inspired home cooking boasts specialized meals with a twist of the south and seasonally inspired menus. Located off the Town Square in a historic old Jackson building, Café Genevieve has been featured on NBC News, The Today Show, and the Food Network! Check them out at Happy Hour for great food and good company, and try some signature Pig Candy!
---
Westbank Grill
Westbank Grill, located inside the Four Seasons in Teton Village, invites you in with a cozy warm fireplace, relaxing atmosphere, and fantastic views. This "mountain steakhouse" inspired restaurant offers delicious steaks, seafood, and signature side dishes. With a classic, sleek design and well-curated wine list, Westbank Grill is a local favorite and must-eat spot. Enjoy!
---
Snake River Grill
For over 20 years, Snake River Grill has dazzled locals and travelers with upscale dining located above the Town Square. With raving reviews and over 300 wines and signature cocktails, the Snake River Grill has been featured on the Food Network, in the Wall Street Journal, and Travel&Leisure, with their exquisite menu and sophisticated taste. Signatue "Branding Iron of Sweet Onion Rings" is a fun cowboy appetizer with the rings stacked on an actual branding iron, and the Elk Tenderloin Medallions with Wild Mushroom Risotto is a local favorite, served with an herb salad. Located right off the Square, this spectacular restaurant offers stunning town views on their outside patio, weather permitting, and a cozy, warm indoor ambiance.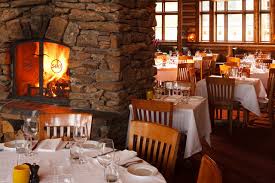 ---
Blue Lion
With open patio seating in the summer, and often accompanied by live acoustic music, the Blue Lion is the place to have a beautiful meal. Raving reviews on TripAdvisor and a fast local recommendation, this historic house turned restaurant provides wonderful service and divine dinner meals. Find them on Millward Street across from Miller Park, and try the Tequila Lime Idaho Trout or the Huckleberry Buffalo Tenderloin for a once-in-a-lifetime palette experience!
The Wild Sage
The Wild Sage restaurant is host to amazing food and great hospitality. Located inside the award-winning, family-run Rusty Parrot Lodge, the Wild Sage invites you in for a cozy fine dining experience. A favorite to both locals and travelers, this eatery offers organic, regionally grown fresh ingredients and local game and meats for a quality meal with spectacular taste. With an ever-growing list of exquisite wines and inspired meals, head over the Wild Sage for an evening of fun and great food, and don't forget to ask the owner to tell you the story of how The Rusty Parrot got its name!