(Guest article)
The Colt 1911 is one of history's most well known handguns from one of history's most well known firearms designer, John Browning.
Despite being over a century old, the design of the 1911 has remained relatively unchanged since it was first produced. This pistol was designed for function and in that purpose the 1911 has excelled, so much that it's been used in every US government conflict since World War I.
Of course, now that the patent on the 1911 has expired, just about every gun manufacturer under the sun has their own version. While they pretty much all have more or less retained the functionality of the original 1911, many manufacturers are putting their own spin on the pistol's simple appearance.
Today we're going to talk about some of the most luxe, high end 1911s that money can buy – without getting a custom job, that is. Open that door and both options and price are unlimited.  There are many less expensive options, but let's talk about "the best!"
Now let's get started!
STI 2011 DVC Open
The especially pedantic may object to the inclusion of a 2011 on a list of 1911s, but the only real difference between the two pistols is that the 2011 has a double stack magazine while the 1911 has a single stack. The internal components are virtually identical, with the exception of the trigger, which has a wider trigger bow in the 2011 for compatibility with the double stack magazine.
And when it comes to high quality 2011s, you can't go wrong with high end manufacturer STI. Despite its top of the line quality, the DVC Open is the most affordable handgun on this list.
Of course, at $3,999, "affordable" is relative, especially when you consider that decent 1911s can be purchased for a few hundred dollars, but compared to some of the other guns we'll be talking about, almost four grand is practically bargain basement pricing.
Anyway, the DVC Open is the flagship model of STI's DVC line.
With its compensated barrel, lightweight slide, and frame mounted C-More RTS2 optic, the DVC Open looks more like something out of a sci-fi movie than the classic M1911.
The two possible finishes, hard chrome with a titanium nitride coated barrel or completely coated in diamond like carbon, only enhance the effect.
Tuned for major power factor ammunition only, the DVC Open shoots like something out of a sci-fi film, too.  By request, CFO Lynn Sherwood's 40 caliber version is available for JHSE guest use.
Arsenal Firearms 2011 Dueller Prismatic
AF2011 Dueller Prismatic has been popping up quite a bit on big and small screens in the past few years. You might have spotted it carried by the villain, Mr. Hinx, in Spectre or by Alice in Resident Evil: The Final Chapter. It even popped up in season 3 of Gotham.
A good hint that it's a Dueller is the double barrel. Yeah, you read that right. The Dueller is actually a double barreled 1911. The pistol has a double hammer with a single spur and a double spur, single piece trigger. Each barrel has its own eight round magazine.
The Dueller Prismatic is certainly a fun gun to shoot, but it also just makes a great collector's piece, especially if you enjoy unusual firearms. That is, if you can get your hands on one in the first place.
Spotting a Dueller Prismatic on tv or at the movies may not be too difficult, but finding one to get for yourself, even if you have the cash, isn't so easy. Despite the $7,263 to $7,995 MSRP, depending on finish, this 2011 sells out quickly. I guess people with eight grand to drop on 2011s are really into double barrels.
Singer 1911A1
Next up is one of the better known collectible 1911s, the World War II Singer 1911A1.
In case you aren't familiar with this particular 1911, it was manufactured, as the name would imply, during World War II by the Singer Manufacturing Company. Yes, that's the same Singer that makes sewing machines.
Singer 1911A1 in poor condition sold for over $80,000 in 2010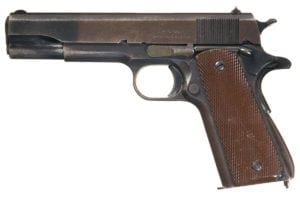 During the government's war, Singer stopped manufacturing sewing machines so they could take on government welding contracts. They produced 500 1911A1s before they moved on to other military production.
A perfect condition Singer 1911A1 sold for $414,000 in 2017
In total, roughly 1.75 million 1911A1s were produced during WWII, so Singer M1911s are particularly collectible. A Singer M1911 in excellent condition generally goes for between $25 thousand and $60 thousand, but a record setting Singer M1911 went for $414 thousand at a December 2017 auction held by Rock Island Auction Company.
Cabot Big Bang Set
Last up is the most expensive 1911 on our list. Okay, so technically it's a set, but at $4.5 million for the pair, each 1911 in the Cabot Big Bang set is still far more expensive than even that record setting Singer 1911. In fact, not only is the Big Bang Set the most expensive item on our list, even individually, it's also the most expensive set of pistols ever sold.
Cabot, a company that's been referred to as the "Rolls Royce of 1911s," is no stranger to high priced pistols, but they decided they wanted to outdo themselves and produce a one-of-a-kind set of the world's most expensive pistols.
So what justifies such a high price tag?
The 1911s in the Big Bang Set are believed to be the only pistols ever produced from meteorite iron. Specifically, these pistols are made from a portion of the famous Gibeon Meteorite, which fell to Sub-Saharan Africa in prehistoric times. They are about 80 percent iron, with the rest being a mix of phosphorous, cobalt, and other materials from the meteorite.
A High End Shooting Experience
Of course, very few of us are the right fit for these 1911s, especially the Cabot Big Bang Set or a Singer 1911 in excellent condition.  Not everyone can afford a Nomad Rifleman private long range shooting experience. Good news for those of us that have "not yet arrived. We can find 1911's that are less expensive, and shooting experiences that are also less expensive.
Let's all have fun shooting!