I am frequently asked about the Best Scope for Long Range Precision Rifle shooting.  There are many factors to consider.  Long story short, if you spend more than $1,000 on a scope, you will be fairly OK.  If you spend more than $2,100 you will be great.  Heck, I even like one scope that only costs only $300!  If you are willing to spend some additional time reading about scopes, click the PRB link at the bottom of the page.
---
First of all, what distance is "long range shooting?"
To an East Tennessee deer hunter, 200 yards might qualify.  To a man with a 10 million acre ranch in West Texas that owns a $15,000 custom Cheytac .408, two miles will seem pretty long.  I generally break it down as follows:
Mid Range – 200 to 600 yards
Long Range – 600 to 1200 yards
Extreme Long Range (ELR) – 1200 yards to one mile
Extended ELR – Over one mile
For the sake of this article, let's say the average shooting distance will be 750 to 1800 yards.
Book a private rifle training session with us HERE. 
Budget & Personality matter.
As a Wyoming Nomad Rifleman private long range shooting instructor, it is easy to repeat the old adage and tell someone to "save your pennies and get good glass."  This is very true.  It is best to spend a few thousand dollars for a good scope.  You should consider how much you will be shooting, and how important the shots will be.
I will use myself for an example.  As a small business owner working an average of 80 hours a week, I do not find/make much time to shoot.  I am typically looking through a spotting scope calling my client's shots, and I shoot very little.  Additionally, I have very little "natural shooting ability."  My primary "long range rifle" is a Ruger Precision Rifle that cost about $1,250.  My favorite shooting is in the 1200 to 1800 yard range, and if I am shooting in high winds at 1750 yards with a 6.5 Creedmoor and I get three hits out of 60 shots, I will be grinning from ear to ear.
If you have a "precise" personality, and like to spend 10 minutes scratching your head and beating yourself up for your miscalculations before taking a second shot, you would be frustrated with my "sloppy" shooting.  You might chastise me for not buying a 10-set Wind Sensor Array.  With my fun-loving cheerful attitude, I never found it worth it to purchase a high end scope.  (My wife finally pulled the trigger for me and bought me a Vortex Razor Gen II in September 2017 for our anniversary.)  I have a Sig Kilo 2000, not a RAPTAR S.
The long paragraph above was about ME.  Who are YOU?  What is your personality?  How well can you read wind?  How important is glass clarity for you?  Are you very well off?  Are you middle-class, and prefer to focus on value instead of price or is price more important?  Know thyself.  🙂
What is your primary purpose for long range scope.
Are you riding a horse deep above the tree-line on a 2-week trip hunting for sheep?
Are you always going to be within 25 yards of your vehicle or ATV?
Do you live in a region with wide open spaces or in a treed and hilly area?
Are you going to be shooting from a solid cement shooting bench?
Are you hoping for half-inch groups at 100 yards, or is performance at 1500 yards more important?
---
I recently wrote a proposal for training to a businessman from the East coast that has neck issues requiring him to shoot from bench rest position.  He does not plan to hunt or compete in PRS.  He knew of Brian Litz, but was not the "engineer-type" who enjoys and understands every page of Applied Ballistics.  He will never hand load.
I got the feeling he does not have two $60-million jets for personal travel, however he has a few homes in different states and seems financially "comfortable."  Based on my assumptions of his price preferences, this is what I sent him.
Best Scope for Long Range Precision Rifle ideas:
I suggest a scope that gives you at least 18 power at highest magnification, 25 is even better, more is kind of useless for a 6.5 Creedmoor.
Before buying, decide if you like MIL or MOA better. I prefer MOA, but it isn't any "better" and it comes down to what the friends you will shoot with most frequently will be using.  It is kind of like measuring in metric or imperial, it is just a preference.
I like the idea of buying a LaRue detachable mount, and a good scope, then you can move it quickly from your 6.5 to your AR15 to your 375 Cheytac etc.  If money is not a worry, then it is preferable to buy a different high end scope for each rifle.  So, for a person that saves money for two years to buy a Vortex Razor for $2500, it is worth switching scopes around versus having 3 different $800 scopes.  For those that are comfortable buying a Razor, Schmidt & Bender or Nightforce for each of their guns, great!
This article is worth the read.
…and …
---
So, the above are what I suggested for THAT particular client.  YOU will have a different set of needs, perhaps budget is more of a concern?  Perhaps details of your equipment are of great import?  Bill Roberts, Idaho Sniper Challenge grand champion in 2017 suggested that if a shooter chooses to use quick detach mounts, that they should be tested to make sure there is not any movement.  He has observed several quick detach mounts that have not been secure.  By the way, Bill uses Leupold scopes and is a big believer in lapping scope rings.
---
I promised to recommend a high quality scope for $300.  It is NOT a Schmidt & Bender or even a Razor, but if you have a limited budget and want to get going shooting now before you have saved your pennies, it is a good option.  Yep, the fixed magnification Super Sniper.  12 power is a great starter, if you go much higher, you will lose some other important things.
I used one of the SWFA Super Sniper fixed reticules on a 50 BMG for over 500 shots and it is still running strong!
---
---
Best Scope for Long Range Precision Rifle – Recommendations
by price
The tactical matches I compete in have rules precluding the use of a laser rangefinder.  We must use our scope reticle for ranging.  This makes a First Focal plane (FFP) scope important.  This kind of shooting also make a 'busy Christmas tree" reticle preferable.  Few people shoot in matches of this nature, so not everything below is perfect for "old school" ranging type matches and use, but most are.


PRS Competitor Brian Prax points out that, "what you are getting for your money when buying the more expensive scopes, besides better glass, even more importantly, is better machining to tighter tolerances.  This results in more precise tracking of the reticle when dialing elevation (exponentially more important when engaging targets beyond 800 yards).  This also results in a scope that is less likely to fail with use over time (there is always someone at a PRS match with their scope failing – bummer)."
Best scope for up to $500 budget
Buy the fixed 12x SWFA Super Sniper.  $300-ish
*A competitive shooter that reviewed this article suggested that Athlon is worth investigating, and another suggested Sightron for clear images and excellent focus at bargain prices
Best scope for up to $650 budget
Buy the Second Focal Plane (not preferable) Vortex Viper.
Best scope for up to $1100 budget
Buy the Vortex Viper PST Gen II.
Check into this Burris option as well.
Best scope for up to $1500 budget
I have never used this scope, but based on their non-HD versions, Super Sniper (SS) is a great bang for your buck and if you are planning to use MILs rather than MOA, this SWFA Super Sniper HD could be a great option.
Best scope from $1500 to $2000
Not really anything that is THAT much better than a Viper, Burris or SWFA
Best scope for $2000 to $2500 budget
This Nightforce NSX is a very popular scope for long range tactical shooters.  Competitor Greg Merrell appreciates that the reticle lines are thinner than Vortex, which allows him to range better.
This is what I just started using, and I love it!  This Gen II version of the Vortex Razor is a great scope from a great company!
Best scope for a $2,500+ budget
It is well worth reading this awesome blog for their more detailed review!  The Vortex Gen II above and the Nightforce ATACR seem to be the best for the serious Nomad Rifleman.  Also, Schmidt & Bender has reduced their prices in recent years and they do have very good quality glass!
---
---
I asked legendary competitor and long range tactical match organizer Elden Dalley his opinion, and this was his awesome response: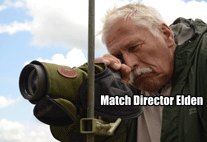 My long range shooting started with the Army's M-24 with a M-3 ULTRA Mil-dot Leupold straight 10X.  I really haven't strayed too far from this concept.  I have owned several brands of scopes but pretty much stay with Leupold.  I bought the (at the time) top end Bushnell.  I can't read the model number because it is painted green.  🙂  Not a bad scope BUT it has a max power of 16X but ranging must be done on 10X.  My first recommendation is never use a scope that is set up this way. 
I have never owned a FFP scope but a good friend has one.  It has some advantage in that you can range on the highest magnification dictated by mirage.  Down side is that the reticule gets bigger as the power increases making ranging more difficult.  At this point I should say that nearly all of my scope experience is based on reticule ranging so my opinion is based on this.  At one point, before the 338 Lapua, I owned a 338 ultramag.   I bought a Nightforce scope, can't remember the model, to use on this rifle.  It was a great rifle/scope combo but was MOA based so I traded it.  Since then I have owned only Leupold scopes with the TMR reticule.  A friend of mine has the Nightforce ATACR.  Best reticule I have seen.  I wish I could afford one.  Here is my list of  critical concerns for scopes:
1.  They must track….Check this with a tall target. Go 50 MOA (or what ever) up, 30 MOA left, 50 MOA down then 30 MOA right.  You should end up on the same place. If they don't, get rid of them.
2.   The reticule subtends must be accurate.  Set a target you KNOW how big it is at a known range. Use the true MOA.  A target 20.940 inches should read 10 MOA at exactly 200 yards.
3.   Use GOOD rings and bases with at least 20 MOA built in.  Not a fan of LaRue or any lever type base.  You need a base/ring that you can torque with an inch/lb torque wrench so that it is mounted the    same each time.  Bill's comment above is right on lapping the rings. If there is any variation  in the base mounting holes, (and I guarantee there will be) or any base/ring components, there will be stress on the scope.  This will mean the 18 MOA you applied to your scope was only 12 MOA with the other 6 MOA waiting for the most in opportune moment to set due to recoil.  YES…lap the rings.
4.  On reticules, the KISS theory applies.  The busy Xmastree reticules are only good if you can see your bullets impact.  As you know, in most shooting [in flat sagebrush high desert] you rarely do.  In a stress situation you don't have time to count the little Xs in your scope.
5.  As you said, you must do a self assessment for the Best Scope for Long Range Precision Rifle.  If you are going to be a serious long range shooter DO NOT buy entry level equipment.  You will out-grow it in a short period and your money is wasted.  You will be lucky to get 50%.  If you start out with entry level equipment you will become discouraged and quit. -Elden Dalley
---
Again, Cal Zant also has a brilliant blog, click below to read more!
Have fun shopping for the Best Scope for Long Range Precision Rifle, and remember to read the details and reviews.  While we are Amazon affiliates, we are always 100% honest about our reviews!