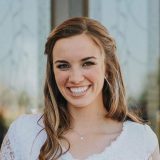 Brigette Christensen
Emeritus - 2018 Guest Care Guru, Event Planner
Brigette Christensen is a native of Las Cruces, New Mexico.  Growing up, she loved to play volleyball and tennis
and spend time with family and friends.  Trips to Cloudcroft, New Mexico with her family are some of her favorite memories.
Brigette married Jackson Hole local Hunter Christensen in the fall of 2017, and recently moved to Wyoming.  We are thrilled to have her on board, and her experience in event planning is wonderful for our organization and for you!  She also works with one of Jackson's finest wedding planners, Lisa Mack,  where she helps brides have the best days of their lives!
You are likely to hear Brigette's cheerful voice and laugh as you book experiences, and you will be sure to appreciate her genuine desire to set you up with the perfect coach for the perfect experience.  Brigette's personal philosophy is in alignment with our firm's tagline, "It's about connections."  You will be glad you connected with Brigette and will probably hang up your phone knowing you have a new friend in Wyoming.
If you decide that you want a shotgun wedding, Jackson Hole Wedding Planner Brigette Christensen can help you out in that department as well!  Who better to plan your bachelor or bachelorette party on the range?